Terence the Roman playwright (born in 195 AD), in his work Phormio, coined a new phrase: "auribus teneo lupum". The phrase is translated as "holding a wolf by the ears" and is much like the more commonly known phrase 'holding a tiger by the tail'. The two phrases evoke the image of man or beast managing or coping with something that is normally too difficult to accomplish. Like…holding a wolf by the ears or holding a tiger by the tail. The image presented by this extended metaphor is so ridiculous of an idea that you can not imagine something like that in reality; but the phrase is so common that someone must have done it at one time or another.
The phrase is so common that a very similar wording is used in a child's nursery rhyme. Remember the cute little counting rhyme that has existed since the 1800s where one kid goes around the room and other kids are 'counted out' or 'chosen' by a random process of elimination? That's right I'm referring to "Eeny, meeny, miny, moe". This children's rhyme can be spelled in many different ways and has existed in various forms in many different languages. Though the origin is not exactly known and has even been quite controversial due to racist slurs found in the rhyme (I won't be getting into that). The most common version that most Americans are familiar with is:
Eeny, meeny, miny, moe
Catch a tiger by the toe.
If he hollers, let him go,
Eeny, meeny, miny, moe.
Though there have been many variations throughout the last 200 years such as replacing tiger with similar nouns like 'piggy' or 'tigger' (I'm hoping that you can see where the racial slur would have been inserted without me having to discuss it); while the action verb hollers has been replaced with variations like 'wiggles' or 'screams'. Along with the many variations, the phrase or references to it has popped up in many places throughout Pop Culture. My favorite author Salman Rushdie named his leading character and his three sisters Ina, Minnie, Mynah, and Moor; while one of my favorite albums by one of my favorite bands Radiohead released their 1997 album OK Computer on vinyl, the band
chose to use 'eeny meeny miny moe' instead of letters and numbers (Side A, B, C, D or any numerical variation) to designate the sides of the 2 record LP.  There have even also been many instances in cartoons, comic books, video games, books and movies in which the 'Eeny meeny' song was sang by a character making a choice. Sometimes the song was sang for comic effect or sometimes added a creepy effect to someone making the decision of whom they should kill. I don't think that anyone could forget Negan's now infamous execution scene in the season six finale of The Walking Dead. Or even even how the rhyme was used in movies like Natural Born Killers and Pulp Fiction.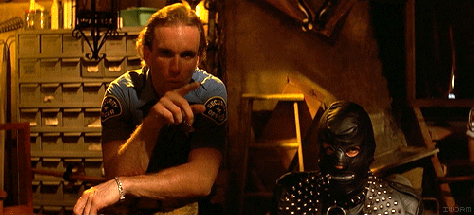 Whether found in a movie, sang by a child on a playground with her friends, or even used as the name of a building that houses mostly high end stores in Japan's Fukuoka Hakata ward; there is no loophole to escape the influence that the children's rhyme has had on Pop Culture anymore than we can deny the comparison between a phrase found in this classic children's rhyme 'catch a tiger by the toe' and the similarly worded phrases of 'holding a tiger by the tail' and Terence's 'holding a wolf by the ears'. It makes you wonder if we as a human race yearn to control these violent animals; but realize the audaciousness of what would be a truly deathly desire.
---
Images:
Alleged portrait of Terence, from Codex Vaticanus Latnus 3868 by Unknown – File: Vaticana, Vat. lat. 3868 (2r).jpg, Public Domain, https://commons.wikimedia.org/w/index.php?curid=18960421
The Walking Dead Series 7 premiere poster owned and accredited to AMC, Fair Use, http://www.amc.com/shows/the-walking-dead
Pulp Fiction Eenie Meenie gif accredited to Giphy, http:/giphy.com/gifs/chris-christie-w0y3J0QY3ZEU8
Featured Image – Department store Eeny Meeny Miny Mo in Fukuoka City, Japan image By Pontafon – Photo created by Pontafon, CC BY-SA 3.0, https://commons.wikimedia.org/w/index.php?curid=7510118